Healthy Holiday Gift Guide 2021
Welcome to my second annual Healthy Holiday Gift Guide! If you missed last year's guide I want to begin by saying that this isn't an ordinary gift guide. I actually take a lot of time sifting and sorting through the products that I recommend to make sure they are actually going to improve your health and/or help the environment. I also connect with the brands that produce these items and do my best  to offer you a discount because I know it can sometimes be expensive to lead a healthy lifestyle. I use each one of these products myself and many of them have helped me create healthy habits for myself so I know they can do the same for you or your loved one. Below I give a brief description of the benefits and reasons for my recommendations, sharing links to shop and discount codes when I have them available. If you have any questions, feel free to email me and I will get back to you as soon as possible.

Berkey Water Filter
Having access to clean drinking water should be the foundation of your health and wellness routine. This is incredibly important as quite frankly our tap water isn't safe to drink regardless of what city you're in. Tap water is essentially recycled sewage water with contaminants of pharmaceutical drugs, heavy metals, plastics and other environmental toxins. In order to clean this up you need a heavy duty filter. Sorry, but your grocery store filtration options are not going to cut it. Purchasing bottled water each week is also not a good option as it's horrible for the environment as most bottles don't get recycled and end up in our oceans. The best thing you can currently do is filter your water through a system that eliminates the toxins I mentioned above plus pathogenic bacteria and viruses. The Berkey purification system is 99.99% effective which is why I've been using it for several years now. I recommend purchasing their fluoride filters in addition to the unit which comes with two charcoal filters.
There are multiple sizes available and you can get one for as low as $249, here is the link to shop: https://bit.ly/3j13Hln. If you are seeing this during the holiday season, they are currently on sale, if not, you can use my discount code: "Edith5" to save 5%.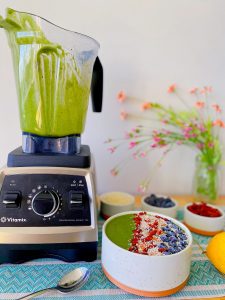 Vitamix Blenders
If you are on board with leading the healthiest lifestyle you can lead, you have to have a high quality blender. One of the best ways to get your nutrients in is by blending. Why you ask? Well to put it simply, you can cram a lot more antioxidants into your body by consuming liquified meals such as smoothies rather than attempting to chew bunches of kale or other high fiber containing fruits or veggies with your teeth alone. Smoothies are also incredibly satisfying and you can make them very delicious by incorporating several of the other recommendations I have on this list. Now that you're sold on having a blender, let me tell you why you need a Vitamix. First of all, they are incredibly powerful, fast and durable. There isn't much you can put into a Vitamix that it can't pulverize in seconds. Second, you can achieve precise textures from silky smooth plant milks and smoothies to chunky salsas and creamy nut butters. This is why all chefs use them as well, the precision of the blades not only yields the texture they are looking for but it also allows for the taste of the ingredients to be at their most desirable state. Lastly, Vitamix offers up to 10 year warranties, that's right, these machines can last you a very long time. I have had the exact machine pictured here for 7 years now and I've never had an issue with it. Did I mention I use it at least twice a day?
Use this link to shop: https://bit.ly/3FP0h14 , if you are seeing this before the end of December, there are holiday sales going on!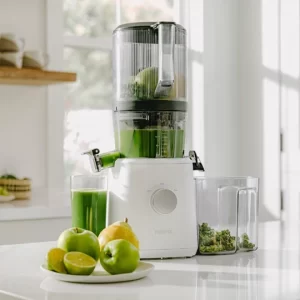 Nama J2 Juicer
Another device I recommend to all of my clients after a water filter and a high quality blender is a cold press juicer. As I mentioned with the Berkey filter, our bodies have to deal with a lot of toxins coming their way. One of the most effective ways to both flush out toxins and to flood your body with antioxidants so that your organs can flush them out more efficiently is by incorporating juicing into your regimen.  Please do not assume you don't need a juicer because you can purchase already made juice at the store. I know it's tempting to since there isn't any cleanup involved with that option however it doesn't even come close from a nutrition standpoint. Any juice you buy that's sitting on a shelf is dead, lacking life-force energy and lacking the antioxidants your liver is hoping for. You simply need to drink the juice right after you've juiced it for the best results. Additionally, continuing to buy plastic bottles at the store will only cause more harm to your body and the planet. I also don't want you to think that you don't need juice because you heard that it isn't good to strip the fiber from your food. This is inaccurate misleading information. ALL of the holistic hospitals and recovery centers that help people reclaim their lives from chronic illness employ juicing as a healing technique. I'm not saying that you shouldn't make smoothies and eat your fruits and vegetables in whole, you should be doing all of those things IN ADDITION to juicing. Drinking fresh juices is like giving your body a vitamin infusion as the nutrients in the juice can be absorbed significantly faster without the fiber. Not all juicers are created equal though. I have been juicing for 15 years now and this is the sixth juicer I've owned and by far the best. The Nama J2 cold pressed juicer is quick, efficient, quiet and easy to clean while delivering maximum extraction of micronutrients. Its new loading capability allows you to load all of your ingredients once with minimal chopping. You can simply fill it with your produce and walk away, letting the machine do the rest of the work for you.
You can use this link to shop: (it will save you 10%) https://namawell.com/?ref=edith . If you access the site without this link, just type in Edith10 in the promo code box and you will still get the discount.
Ninja Kitchen Appliances
A high quality food processor is another excellent tool to have in your healthy kitchen. I personally use the Ninja Professional Plus Food Processor daily to either make my salad or my raw oatmeal. The reason I really recommend it is that it saves you a ton of time. I definitely don't enjoy chopping and since I eat a lot of produce each day, I would have to do a lot of chopping without these kitchen gadgets. So anything that makes a healthy habit easier to stick to I think is a win. While there are other good high speed food processors on the market, I haven't found any as good as this at this price. Ninja Kitchen makes several other high quality appliances that are worth checking out such as their air fryers which can help you to cook oil free.
Use this link to shop: ninjakitchen.pxf.io/orjAe
I don't have a discount code to share here however they are offering sales through the holiday season.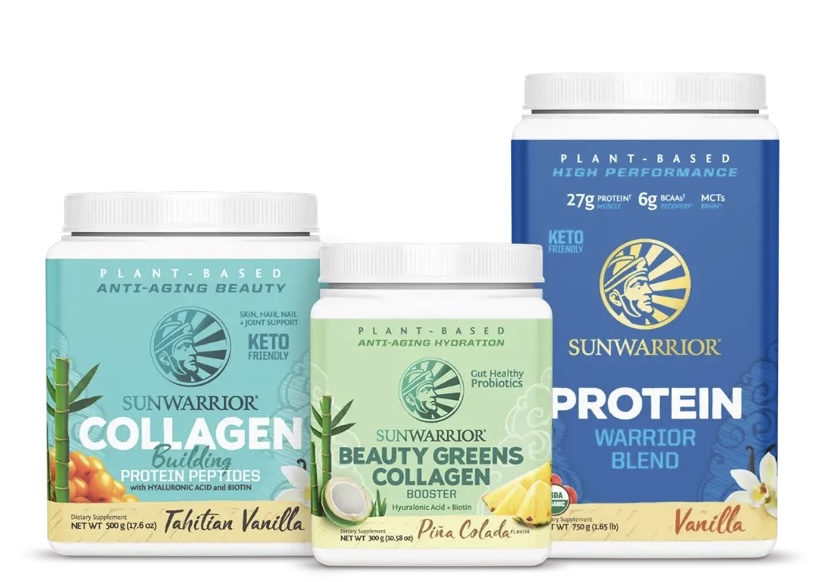 Sunwarrior Superfoods
If you are on board with making smoothies, then my go to recommendation for a plant based superfood line is Sunwarrior. They offer some of the highest quality organic vegan protein, greens powder and supplements you can find. They even have an algae based omega 3 supplement which is the best kind to take as fish oil is not only harmful to our oceans but also full of toxic heavy metals, plastics and other environmental toxins. As if that's not bad enough, almost all of them are rancid. Plus the fish are just middle men as they also get their omegas from algae. Sunwarrior also carries a line of vegan collagen builders and again, this is what you should be consuming as collagen supplements are basically just ground up bones, cartilage, hide and scales of tortured animals (sorry, gotta keep it real). As a health professional I couldn't in good conscience not tell you that. Not only are their products safe (third party tested for contaminants) and nutritions, but they're also delicious and have been a part of my routine for several years now.
Use this link to shop: https://sunwarrior.com/?aff=242 and my code: Edith will save you 15%.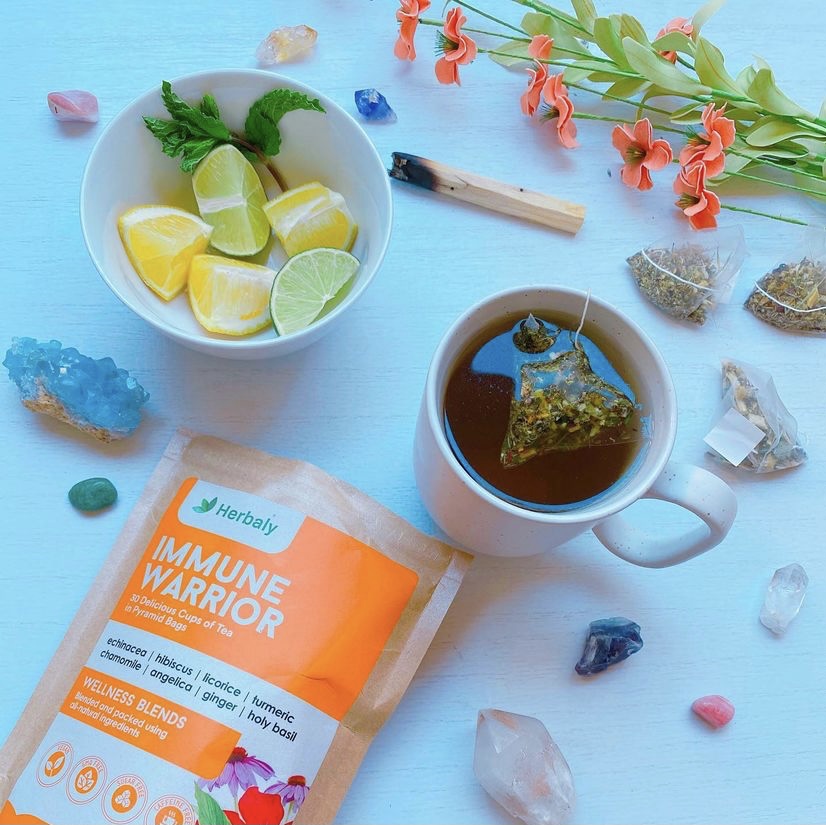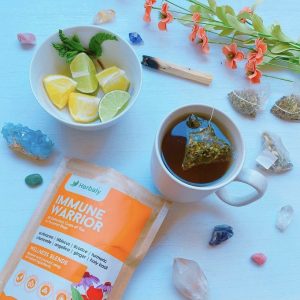 Herbaly Teas
If you are a tea drinker I've got a great organic recommendation of herbal teas for you. Herbaly offers a line of high quality, carefully selected and researched teas infused with superfoods.  You'll find ingredients like ginger, lavender, holy basil and turmeric incorporated in their blends. In addition to being USDA certified organic, Herbaly teas are Non-GMO, sugar free and made with just a handful of immune boosting plant based ingredients. I've been enjoying their Immune Warrior blend in the morning and their Dream Vibes tea which includes lemon balm in the evening and I love this new ritual.
Use this link to shop: herbaly.com/edithagoston
and my code: edithagoston will save you $10 at checkout.
Four Sigmatic
If you're into healthy living already, chances are you have heard of adaptogens. These superfoods are generally derived from some sort of medicinal mushroom, root or adaptogenic herb. The term adaptogen simply means that these substances help your body to adapt to various stressors that we face on a daily basis, such as a lack of sleep, environmental toxins, unhealthy foods and even the stressors from healthy activities like exercise. These plants work with your body's natural flow to boost your immunity, balance your hormones and improve your mood. When taken regularly, they can even help you age gracefully and keep your reproductive system functioning longer than you would expect. Four Sigmatic is my recommendation for your adaptogens as not only are they certified organic but they also test for contaminants including heavy metals. Their products are wild crafted, potent and can be easily taken with your favorite beverages. They make all sorts of amazing concoctions including latte mixes, elixirs, vegan proteins, liquid shots and even skincare. I have been using their products for years now and I can't tell you the last time I was sick.
Use this link to shop https://foursigmatic.com/?rfsn=4367190.fab7d8&discount= and my discount code: Edith will save you 10%.
Foods Alive
Another amazing superfood company that has a different but also important offering is Foods Alive. This is a family owned company that specializes in producing organic living foods, meaning many of their products are raw and contain the highest levels of nutrients possible. You can find raw nuts and seeds there in addition to healthy salad dressings, veggie and flax snacks that you can also sprinkle on top of your salads, and dried super fruits such as mulberries and goji berries!
Use this link to shop https://foodsalive.com/discount/EDITHwhich already has a 20% discount attached, or you can type in "Edith" at checkout and have the discount applied that way.
Prolon Fasting Mimicking Program
If you know me in real life or you've been following me for a while, you know I'm a big fan of fasting. There is substantial evidence indicating that fasting can improve longevity. In fact many ancient cultures and several blue zone communities have employed fasting as a modality to enhance health throughout history. That being said, not everyone is ready for a water fast. Enter, Prolon's 5 Day Fasting Mimicking Diet! A plant based, carefully designed meal kit program that's designed to nourish and rejuvenate the body while supporting metabolic balance. Prolon allows you to eat real, delicious plant foods which are portioned out at appropriate macro nutrient ratios to trigger cellular cleanup while protecting lean body mass. More than 20 years of research has gone into developing this program and you can find several clinical and preclinical studies proving its effectiveness. I personally have done this program three times and I absolutely love it. I find the meals to be very delicious and the 5 days easy to get through.
Use this link to shop https://bit.ly/3cT7tNa and my code: Edith10 will save you 10%.
Mountain Rose Herbs
In addition to eating a whole food plant based diet, I recommend incorporating herbs, spices, superfood powders and other plant botanicals into your routine for optimal health. There are many reasons for this. In some cases it comes down to availability, in other cases plants are actually more pure and potent in dried form and in many cases they are easier to use this way. When selecting where to get these products it's important to consider sourcing, origin and sustainability to ensure you are getting a safe product that considers the planet, its plants and people throughout the harvesting process. For all of these reasons, my top recommendation is Mountain Rose Herbs for all things botanical.  Their products are organic and they take great care to minimize their foot print while providing us with amazing plants to boost our health. You can also find essential oils, reusable containers and other eco friendly home goods on their site.
Use this link to shop http://aspireiq.go2cloud.org/aff_c?offer_id=24&aff_id=9516 I don't have a discount code for you here but when you use my link you support my business.
Hamama Greens
If you or your recipient are ready to start growing your own food, the best place to start is with a micro green growing tray. Sprouts and micro greens are significantly more nutrient dense than their fully developed counter parts, sometimes containing up to 50 times more antioxidants! When using these easy to use growing trays, very minimal time and effort is required before you can start cutting them and using them to top your soups, sandwiches or salads. I love them because I still live in an apartment so having the ability to grow these nutrient dense beauties always makes me feel like I have my own little garden.
I've even used them in my smoothies before to add nutritional value to them. Use this code to shop https://bit.ly/2D2lQ2A.
Caraway Nontoxic Cookware
Another thing to consider when working to reduce your toxin lead as part of your healthy lifestyle is your cookware. Unfortunately most pots and pans are made with harmful chemicals that will leach toxins into your food through the cooking/heating process. Some of these toxins come in the form of heavy metals which can stay in the body for a very long time and contribute to autoimmune conditions. Fortunately there are nontoxic cookware and bakeware options available, like my favorite line from Caraway. Their products are ceramic which most health experts deem to be the safest material to cook with. In addition to being safe, Caraway's products are stylish and designed to last making it an easy swap for most cooks, food bloggers or anyone interested in good food and healthy living!
Use this code to shop https://caraway.go2cloud.org/SHfh . If you are seeing this post during the holiday season they are having a big sale so take advantage of that for a discount.

Novilla Organic Mattress
If you didn't already know, your food shouldn't be the only thing you prioritize as being organic. Your furniture can also cause health issues if it consists of substances derived of oil as these materials are constantly off gassing harmful chemicals. This means you want to avoid polyester, nylon and other man made fibers as much as possible and stick with organic cottons and plant based fabrics. Novilla mattresses are made with organic bamboo and charcoal fibers with a cooling gel memory foam that's breathable and super comfortable.
The other reason I am very happy to recommend them is that they are super affordable, they range between $159-$399 and you can use my discount code: "Edith" to save 10%. Shop this link: https://bit.ly/2VAOSNu.

Branch Basics Nontoxic Cleaners
One of the most harmful substances found in homes are conventional cleaning products.  Almost all of the cleaning products you will find in your local grocery store's cleaning aisle are loading with toxic chemicals that can trigger autoimmune conditions and eventually lead to chronic illness. I don't want to scare you but I do want you to urge you to be very careful if you are around any such products as they are designed to kill bacteria and we are essentially a large bacteria. But don't worry, there are amazing companies like Branch Basics that understand what I just covered and they've made it their mission to provide us with both safe and effective products to keep our homes clean. Their system is super easy to use, for most of your cleaning purposes all you will be doing is diluting their concentrate cleaner with water in the provided reusable bottles that come with their kits.
Shop this link: https://bit.ly/3qlIRlT and use my code: "EdithAgoston" will save you 15%.

Our Place
This amazing company employs ethical labor and uses responsible non-toxic materials to produce their eco friendly kitchen products. I personally have their ceramic bowls, tiny bowls, plates, glasses (which are hand made using recycled glass), wooden cutting board, ergonomically friendly knife set and their highly coveted Always Pan which is every minimalist's dream pan. Another noteworthy mention is that they don't use any artificial dyes or harmful chemicals in their products and their mission is to bring home cooking back to every kitchen as they understand how it helps to foster human connection. Use this link to shop: https://fromourplace.com. I don't have a discount code for this brand, I just love them! They are having a holiday sale too though so take advantage if you're interested in their elegant sets.

Thrive Market
Looking for organic and sustainable pantry staples that you can't always find at your local grocery store? Thrive Market is an online subscription based grocery store that specializes in healthier alternatives that are sourced and packaged sustainably at competitive prices. Their site even allows you to select your diet preference such as vegan or paleo and use that feature to search for the products to build your box. You can also select your delivery window, pause your subscription and have it delivered to your home when it's most convenient for you. I'm all about giving gifts that people actually need so I consider the gift of groceries to be an excellent one.
Use this link to shop: https://www.dpbolvw.net/click-100504813-15098253 I don't have a discount code, however when you use my link you will be offered a percentage off or a free box!

Aires EMF Protection Devices
Another area we have to be concerned about when it comes to our health is the effects of electromagnetic radiation that's being emitted by our cell phones, laptops, bluetooth devices and much more. As our technology becomes stronger this threat to our well being is only going to get stronger too. It's imperative these days that we use devices that help mitigate these risks to our biology. Aires Lifetune device EMR modulation technology is designed to do just that. The technology works by using an antenna attached to the Lifetune device. It draws the power from the electromagnetic field  into its microprocessor. The microprocessor then diffracts the EMF and its energy level by creating a holographic, cancelling electromagnetic wave which essentially reverses the original energy wave emitted by the source of EMF. I know that sounds complicated, you can learn more about these devices and how they work with my link below. You should also be able to notice a difference in your hands if you work with technology devices every day like I do.
Use this link to shop: https://www.airestech.com?ref=Edith , my discount code: "Edith10"  will save you 10% at checkout.

Angela Roi Vegan Leather Designer Bags
Ok you made it to the end and while this item may not improve your personal physical health, the animals will thank you. Angela Roi bags are not just any faux vegan bags, they are sophisticated, elegant designer bags that will rival any real leather bag in both function and appearance. If you're receiving this in your email you know that I am a hard core vegan and environmentalist and I do not support the slaughter of innocent animals for either our food or our clothing/accessories. I am proud to support Angela Roi as they believe that personal style should not come at the expense of personal values. They use ethical materials to provide stylish bags at an affordable price.
Shop this link: http://www.angelaroi.com?ref=380.
Wyman's Wild Blueberry Juice
One of the most potent sources of antioxidants are wild blueberries. I consume frozen wild blueberries, wild blueberry powder and wild blueberry juice, all available from Wyman's, a family owned company that wants to share their love for fruit. Studies show that 8 out of 10 people aren't eating enough fruit and Wyman's is on a mission to fix that.  This fruit fear is likely due to misinformation in today's diet culture. The truth is, we would die without fruit and that fruit is our largest source of antioxidants. Our livers rely on the vitamins and plant compounds found in fruit to detoxify us and keep us well. Since wild blueberries are one of the most potent, I had to share this company with you. They are my all time favorite for frozen fruit but since that may not be an ideal gift to put under the Christmas tree I wanted to let you know there is an alternative that's just as good and perhaps even more convenient.
Shop this link: https://wymans.com . Or look for their products in your local grocery store.
Book a Health Coaching Session With Me
For as long as I can remember I have been passionate about nutrition and health in general. Six years ago I left my former career and became a certified holistic health coach specializing in plantbased nutrition and nontoxic living. I have studied these subjects extensively throughout the past six years and believe it is my soul calling to share what I have learned to help others improve the quality of their lives. It would be my honor to help you or your loved one reclaim your/their health and vitality through adopting healthy habits which will lead to a new lifestyle. I do want to say that I can only help as much as you will comply so if you are actually ready to walk the walk and not just talk the talk I am here for you. By walk the walk, I mean eat your fruits and vegetables, cut back on animal products, processed foods, caffeine and alcohol. It also means exercising regularly, spending time in nature and being honest with your current life and your goals. I can help you get on the path to your best self but I need your commitment too. We can no longer put our health off and think we'll get to it next year.
Schedule online with me with this link: http://www.naturemds.com/consultant/edith_agoston . If you're local to the St Petersburg Florida area (my new home) you can also book with me in person at edithagoston.com
Thank you for taking the time to read through my guide. Feel free to forward to anyone who might benefit from the above items. If you have any questions about the guide or my services, feel free to email me at edithagoston@gmail.com or connect with me on Instagram at @edithagoston